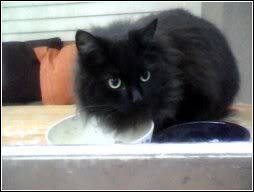 A closeup of neighbor's Mr. Poole look-alike. Taken with cell camera.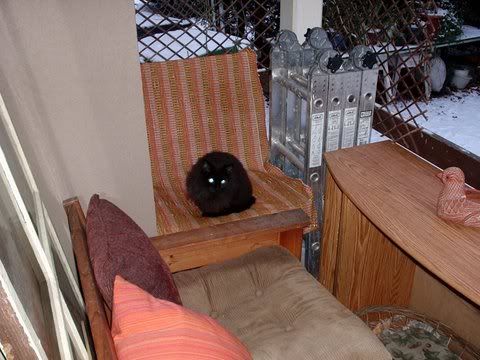 We have comfy waiting areas, and snacks too! He looks like a diminutive version of our Mr. Poole.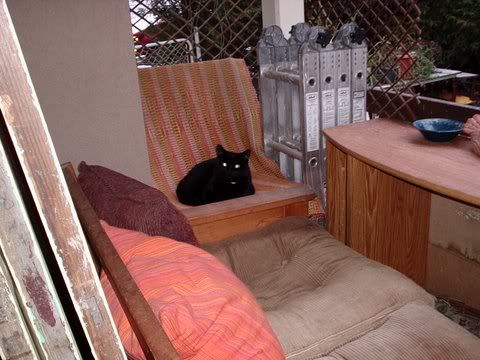 Black cat with white collar - word is out!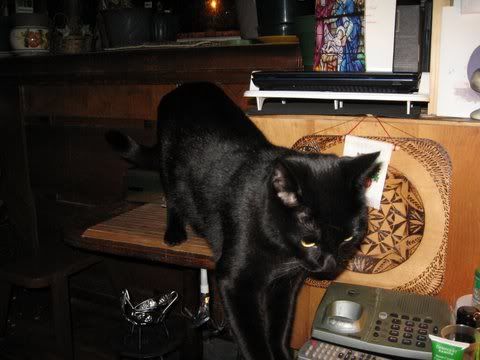 This guy maybe lives with "black cat with white collar" - not sure, but he loves to have long naps in our indoor baskets.
Picture this – 3:00 in the morning, November 11th - Remembrance Day – everyone asleep – I am awoken by sounds on the dresser – light goes on to reveal what I think is Mr Poole, but wait – he is much smaller – and not fluffy – a sleek, miniature black panther, on the dresser in front of the mirror – who, unbeknownst to us, had been inside probably since dinnertime and fell asleep somewhere. And now, where does he make a beeline to? Angel's old basket which is high on top of a chest of drawers. (we lost our little black Angel end of Sept.) Of all places! I tell you it was spooky – how did he know – I swear he went directly to it. He settled in and peered down at us contentedly – lights out. If he is homeless – we may just call him

Angelo

.
Lately, we call him Piccolo Angelo - in remembrance of our sweet Angel that left us too soon this past fall.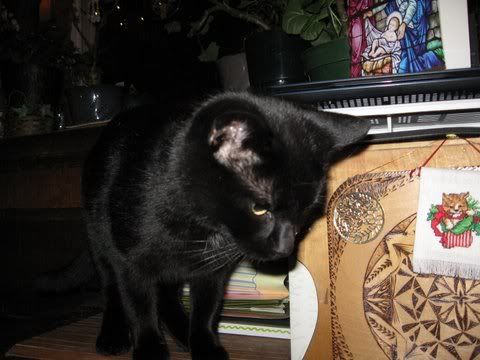 Piccolo Angelo.
Sweet Angel, often called Angelina Jolie - Jolie petit (beautiful little Angelina) - who loved to sleep by the Christmas tree - I have never seen a cat that seemd to love the holiday season so much.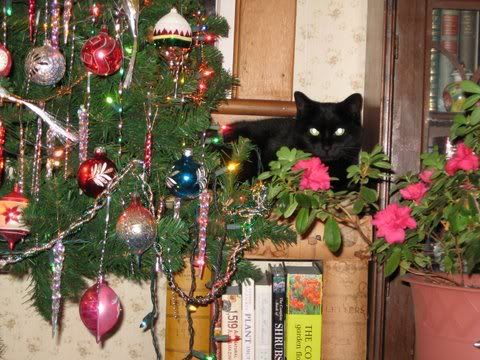 Resting now past the Rainbow Bridge...