Last September at the time of Tiny Tim's passing, I mentioned a song called "Three Babies" by Sinead O'Connor. "The face on you, the smell of you, will always be with me..." Let me to explain. Back in the mid-80's we rescued a pregnant black cat that would result in a litter of 4 kittens. The mother had extreme "issues" with the queen of the household Mishka, a fiery and quixotic tortoiseshell, so once the kittens were old enough to be parted from mum, mum was given to another home. I had never had a kitten experience before – I saw them only hours old, and watched them grow and play, and of course fell totally in love with them – and we kept them - all. In a photo of the time (bottom picture), Mishka can be seen actually sleeping with the kittens ("jeez, I must have had these during one of my blackouts!") The look on her face is priceless.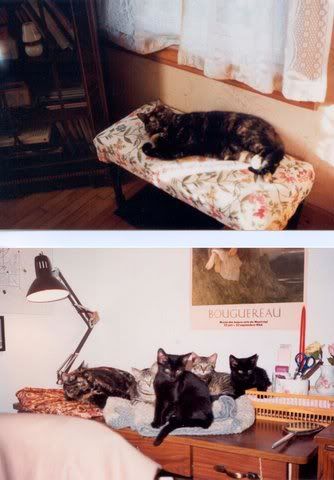 But looking back, this litter was cursed/doomed:
Popeye, a gorgeous tabby, was the first to die a tragic sudden death, and it was on that occasion I played the song "Three Babies" – referring to the three that were left. I played it over and over again like a dirge. So many tears.
Paboo was next to leave us soon after – he was soft and black and very beautiful – and one day he just vanished. That is the worst, I think – not knowing what has happened. Despite the pain of a sudden death or imminent death from disease, not knowing is agony.
Bijou, a tiny elegant tabby, was endlessly persecuted and hunted by the queen Mishka. This is no exaggeration, and it was sad and disturbing to watch her cower in corners as Mishka stalked her like prey. We were powerless to stop it, no matter how we tried. And so one day Bijou just left. I suppose she simply couldn't tolerate the relentless assaults anymore. But, after three weeks, she reappeared at our backdoor – looking quite well and not starving at all. She had come for my birthday and she stayed for around 24 hours before leaving, never to be seen again. Perhaps she came back to say goodbye – a final goodbye. I would like to think she found a peaceful forever home, where she was the only one – but of course I'll never know.
And that left our Sammy, who outlived them all. Sammy was a large black cat, but also a bit of a timid fellow. He was the only one that lived long enough to see us all move into a house with a very large garden, just across the street. The poor fellow didn't know how to handle a staircase in the new place – it took him a whole month to figure it out, but boy was he proud when he finally did - a feat accomplished on his birthday no less! Sadly, within 7-8 years he succumbed to an awful condition called megacolon.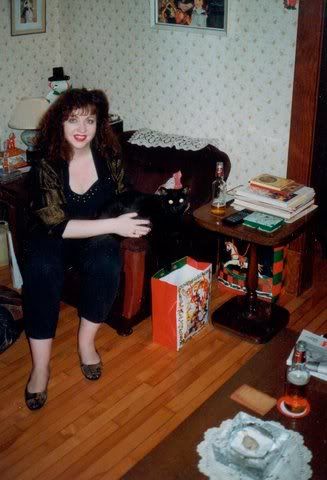 Our Sam (sorry for repeat pic from Christmas).
(Sigh).
But Sammy was never alone with Mishka. Throughout all this, there were others that came into our lives: suddenly, sometimes gradually, but always mysteriously. And they would leave again, usually due to illness, but for now, I will remember them without that final cloud - remember them for their unique and special ways: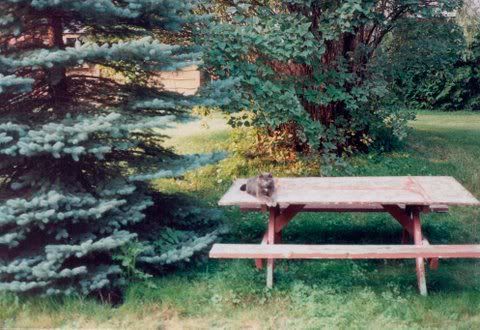 Sheena, a gorgeous gentle grey (seeing this picture after so long, I was stunned just how much like Timmy she looked) – we often thought Timmy was a reincarnation as both of these grey cats were very difficult to "capture" – they both were very scared of humans and it was a real campaign to win their trust. Sheena was my little "Honey-Bunches"....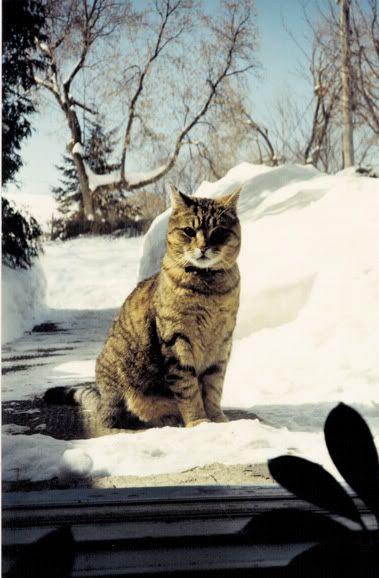 Buster, a solid spotted tabby, the refined "lodger", Bustopher Jones ("not too close, PLEASE!") – he used to run when he'd see me coming, and I'm sure when he sees me at The Rainbow Bridge, he'll groan, "oh no, it's HER – she'll want to pick me up and do all that other stuff - ugh! - maybe I'll say hello later…" . And he'll wander off in his inimitable elegant manner....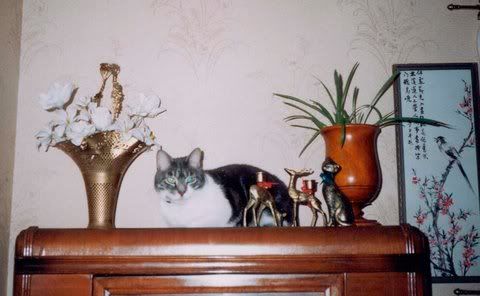 Smudge, the precocious wide-eyed grey and white prankster – I'll never forget the time he edged a ceramic bowl of peppermints off a high shelf (while I was watching and saying "don't you dare!"), and as he watched the dish smash and the mints roll and scatter across the floor, the look on his face was sheer delight, as if he was saying: "wow, cool – did you see that?" How could I be angry?? Or the time he lost his footing off the second floor railing, landed unharmed at the bottom, then looked up at me as if to say " hey, that was fun, can I try it again?" What a Smudgeroo he was! Chaiyka has much of that same spirit in him....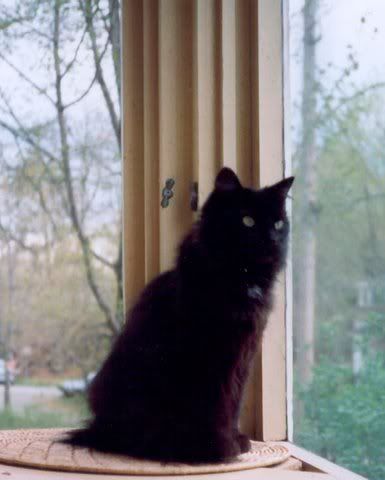 Mitzi – petite, black and fluffy, she must have had some bad times before she came to us - as handling her was always a tricky affair due to her sudden and inexplicable bouts of aggression, indeed she seemed half-wild at times. Poor little Skitzi-Mitzi…but I like to remember her at the peak of health, running at top speed diagonally across the huge lawn at the new house...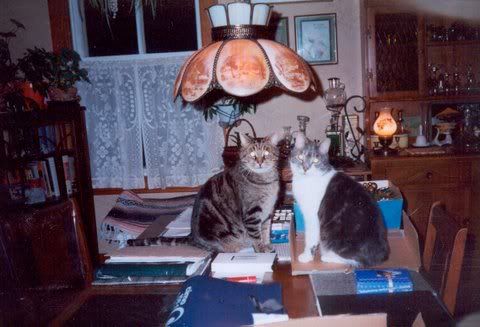 PeeBee (aka Schnagglepuss) and Smudge.....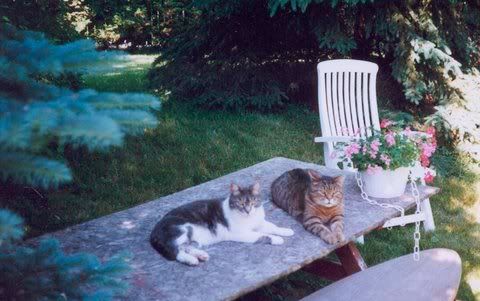 Buster and Smudge - very often together. Who knows, maybe they were brothers...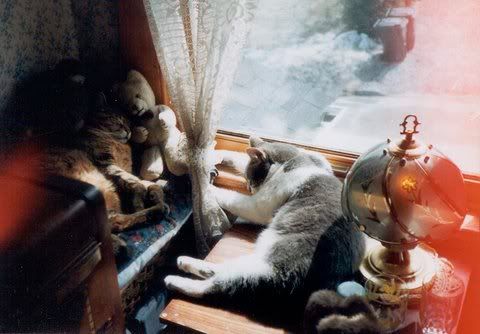 Buster and Smudge - in blissful sleep...
All these precious ones are what I consider "pre-blog", and I do not mean to exclude Pumpkin, PeeBee (aka Schagglepuss), and of course Mishka, who have all been featured on Cat Whisperer, and who are no longer with us.
Enter – exit…always too soon. They are never with us long enough.
********************************************************
There is more to see and read over at The Friday Ark and then Carnival of the Cats on Sunday.