So, I have to confess, I have tried not to warm up to Tristan. Chesney really, really didn't like him, and I have been harbouring - perhaps - some resentment that he somehow chased Chesney away. Only people with experiences with multi-cat households can fully understand how these things can play out,sometimes badly. In between my sorrow for my missing Ches - the horrible heatwave arrived. Extreme heat that didn't relent at night. And one evening just before bed, seeing Tristan lying on the floor looking like he was half expired, I picked him up and wrapped him in a cool damp towel, and held him in my arms for several minutes. In those few minutes I realized I loved little Tristan - already, and in spite of what my so-called rational brain was telling me.
And he has proved to be quite the little trickster. Needing some some work done on our chimney this week, a ladder was left against the house. So as I was getting ready for work this week, looking out the second story bathroom window, I heard some strange sounds and then - whose head do I see peeking up at me from the top of the ladder, but little Tristan's. What a sight that was!! Although he was "rescued", a part of me was tempted to see if he actually could make it back down on the ladder.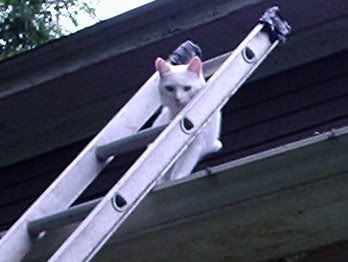 Indeed there were days this week that I seriously wished it would snow! I went to bed with a damp towel around my neck and a damp facecloth on my forehead. Sleeping was a misery - and I felt exhausted all the next day. Luckily I have AC at work, but getting there on public transit was horrible.