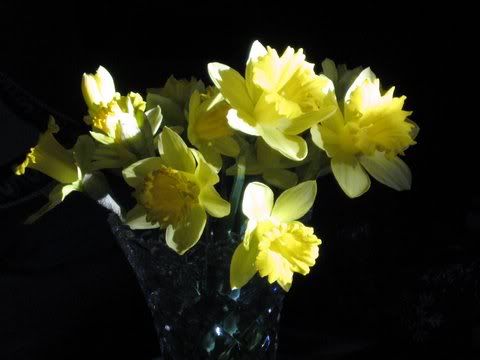 It is
Cinco de Mayo
- and I absolutely refused to wear tights today. Yes, it is cold - just below 40F - but I'd rather freeze than give in on May 5 for heaven's sake! Even the poor daffodils, the few that were brave enough to emerge recently, seem to be shivering and look rather miserable (unlike the ones featured above - Cancer Society fundraiser a few weeks ago).
Quite a change from last Wednesday when we were sent home from work at noon due to possible flood risk. Although the waters rose very high, no serious flooding occurred, and instead I had a most unexpected lovely afternoon at home, starting with a delightful lunch: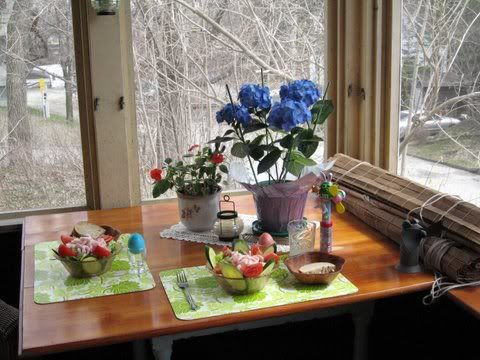 The blue Hydrangea on the table was an Easter gift from Cat Wrangler. The day was a real heatwave - over 80F and humid. Working in the garden was almost a hardship. Almost. Cold beer breaks helped :) All in all, this afternoon was a real gift, and I got lots done, cleaning and tidying the sun-porch, not the least of the tasks - and it sure felt good to officially start the season. Alas, you wouldn't know it today.
The following weekend was a little more normal temperature-wise, and much needed raking was done - a task too difficult in last Wednesday's sweltering heat. More comfortable in cooler spring temps, here are the first harbingers of the beginning of the spring season: delicate blue Glory-of-the-Snow (
Chionodoxa)
, and the delightful yellow Trout Lily: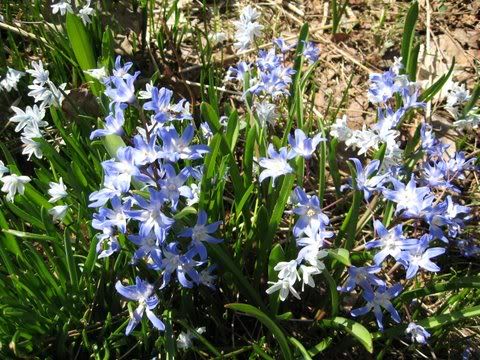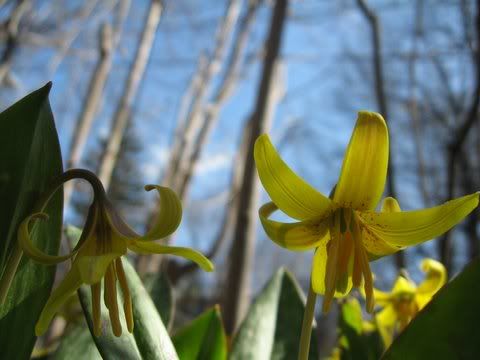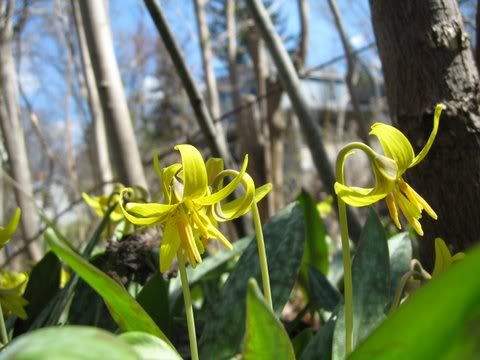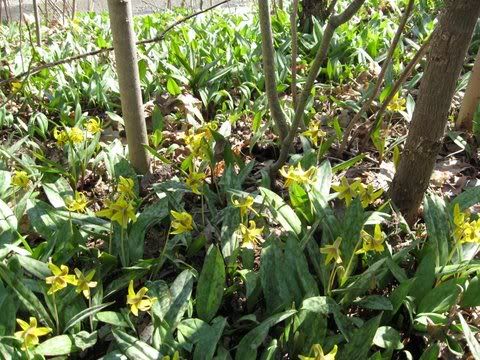 The Trout Lily (Erythronium americanum) is so small (less than 6 inches tall) and low to the ground, that one must get down on hands and knees and point the camera upward under them, as their petals totally recurve in the daytime and close up at dusk or on cloudy days. It is so named probably because the foliage is sort of fish-shaped and mottled. They are multiplying every year, as I intentionally allow the fallen leaves to remain in the hedge borders to create a wood-like environment, in which Trout Lily thrives. Their foliage seems invasive in the early spring - but after the heat of May, they disappear into the ground or lawn, if they have spread that far. I recall when I first moved to this house, I was concerned this was a noxious weed, as I did not know anything at all about plants, especially native ones. But with the help of the internet, and a great site called
"Name That Plant"
, where folks post pictures of their botanical mysteries, I soon learned what I had. I don't care much for lawns anyway, so it matters not that the delicate and ephemeral Trout Lily is happily is spreading its little rhizomes underground.
Speaking of raking and general garden clean-up, I came across this the other day, tucked inside an old hollowed-out tree stump: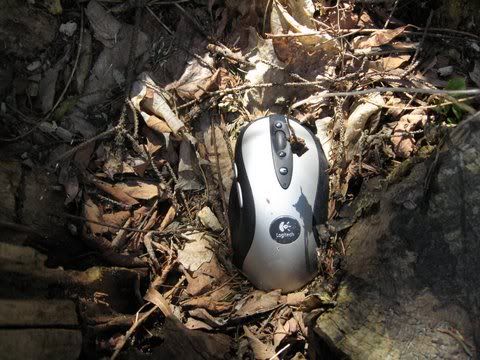 Hmm, someone around here has an extreme idea of what mouse-hunting is all about! Too funny, don't you think?
And of course Friday we had the Royal Wedding, which, lover of sleep that I am, I was able to catch on the replay later in the day. For the occasion, the chef prepared some bacon butties and beans on toast (amongst other delights):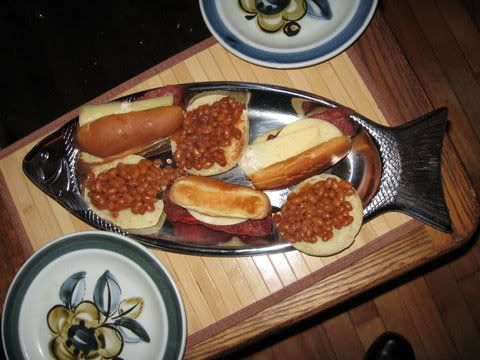 By the looks of Kate Middleton, I doubt she partakes of bacon butties very often!
And last but not the least of my news, The Reverend was finally released from his "bondage" on Easter Monday. He was nowhere to be seen for 2 days, but finally appeared on the hot Wednesday I spoke of earlier: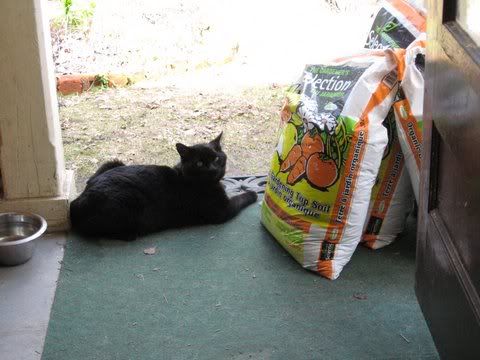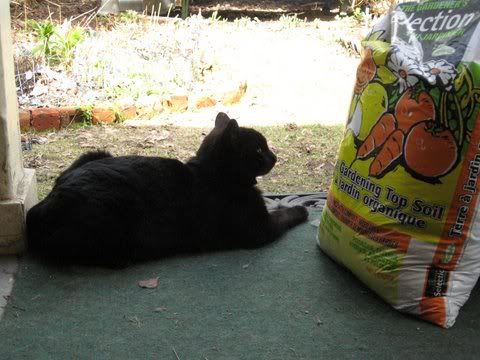 And so, he kept appearing daily to have his usual breakfast, whilst Mr. Poole does his best to make sure he doesn't get back into the house - he stands on guard, alternately between the front and back doors. The Rev is ALWAYS ravenous! And yesterday – are you ready for this – he showed up with a brand new white flea collar on him!!!!! And I doubt he put it on himself! Talk about being gob-smacked, and more than a little annoyed, $244 later for someone else's cat! Someone who has no clue how to take care of one either! Whoever has this cat, does not feed him, does not treat him for injuries, and did not fix him. This is a new one for us. Yes, totally gob-smacked.