My neighbor recently asked if I would like to have like her old patio set, and when I saw it, I instantly realized the possibilities. It really was not that old and she said it was a great set for family get-togethers. Well to heck with that I thought. You see, I am a mega mosquito magnet - it must be that sweet Polish blood and fair skin, and that is why I spend any leisure/meal time in the safe confines of the solarium, where I can look at the garden and not get devoured, as I do continually whilst I garden. Repellent does not deter the buggers much - what a scourge!
Anyway, getting back to the patio set - as the photos indicate, the glass table and huge umbrella gives me a fabulous large work space, and provides much-needed shade. The glass top makes it look much classier than plastic, and our little neighbor's cat Noomi, thinks it is, and sorry I can't resist, the cat's meow! And as an added bonus - the table came with 4 very comfy chairs that also came with comfy weatherproof cushions. These are being well used by the feline residents. The chairs are in shady nook of the garden, and what better place to have a snooze on a warm afternoon. Pics of those to come soon.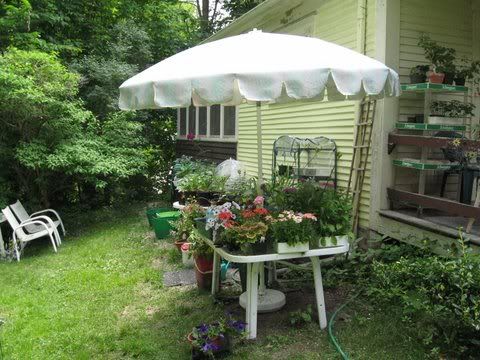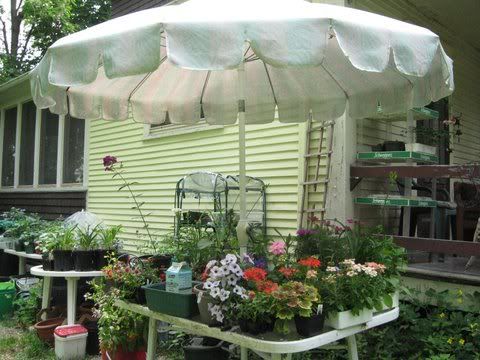 The table is totally covered after my trip to the nursery.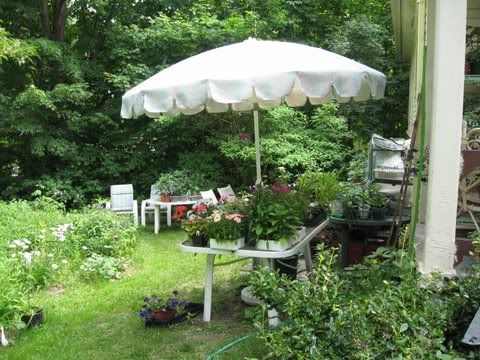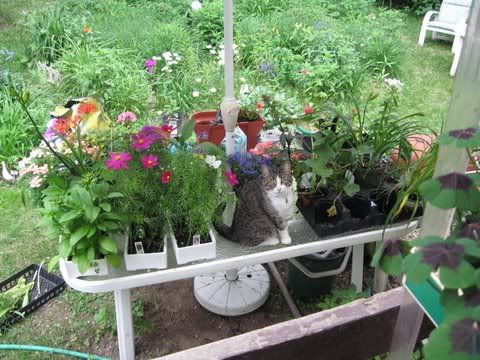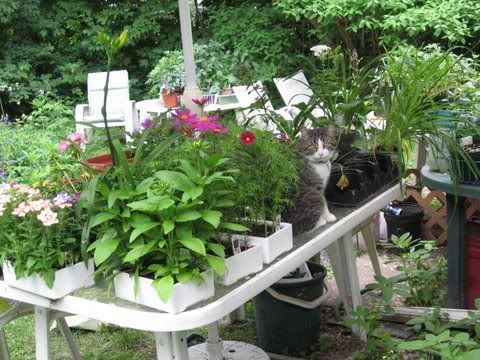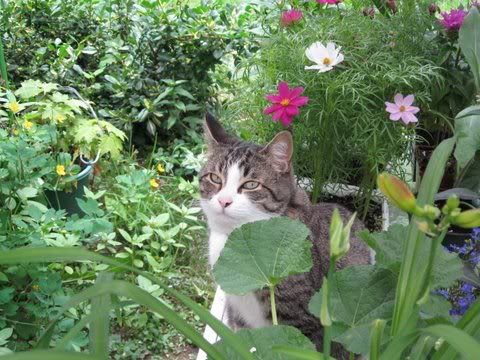 Little Noomi - he is so cute!! He was the first to jump on the table - amazing he actually found a spot amid all those plants!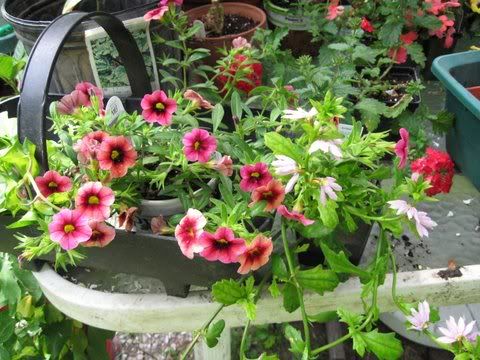 Callibrachoa, or Million Bells, in a juicy punch color.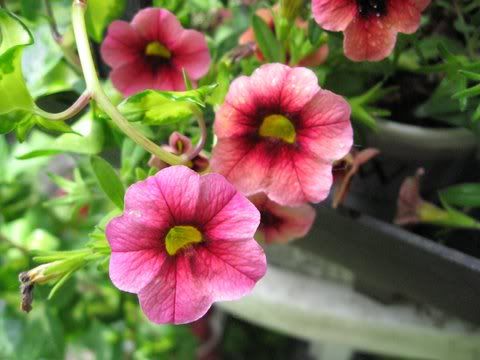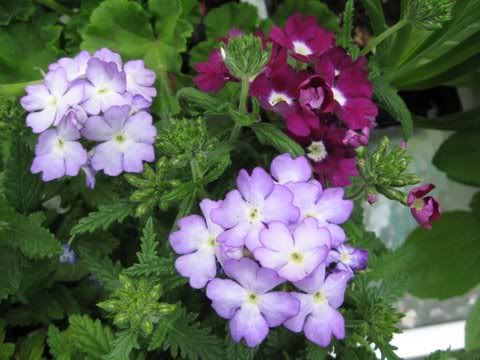 My latest favourite: Verbena - and it stays through light frost at the end of the season.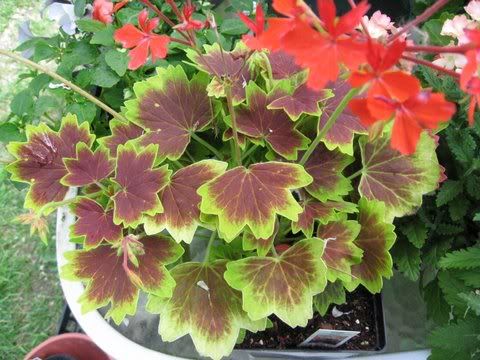 A very different Pelargonium (Geraniums to most folks), with leaves like a Coleus - also soft and fuzzy - gorgeous.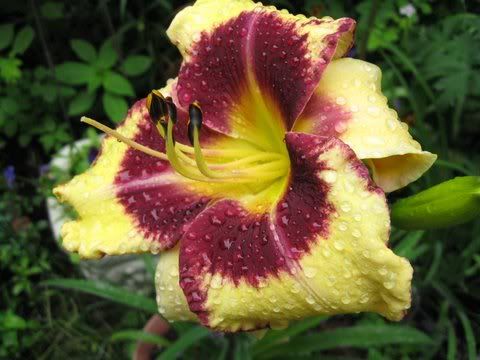 Newest Daylily: Jamaican Me Crazy. I now have over 50 varieties - the newest ones are so large and very beautiful, and there are thousands now available.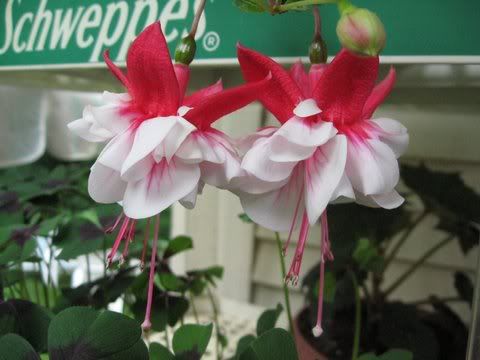 Flirtatious Fuschia! Like petticoats on a can-can dancer....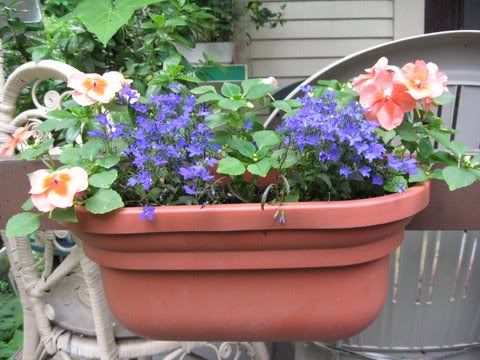 Arrangement hanging off the porch railing: peach impatiens and blue lobelia - the blue in real life is much more vibrant.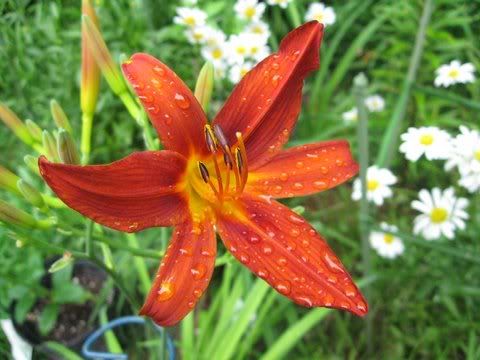 Zesty Daylily Sammy Russell after a shower.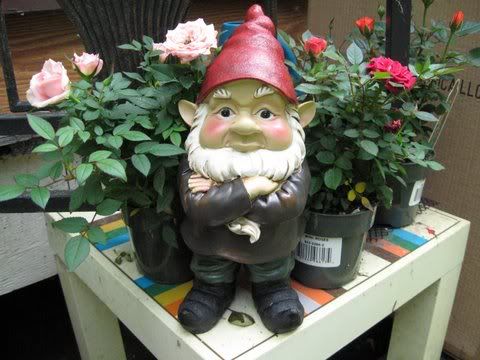 And despite his dubious look, my latest garden inhabitant - a recent gift from my sister - is surely pleased with what he sees. A garden gnome - every good garden must have at least one!