The Collaring of the Cats
As an update to the dreaded visit by our local SPCA, we were given 48 hours to collar, with tags, all our cats. And since we really did not want to find out what the "or else" might be, off we went to find suitable collars and get replacement tags for those that had been lost long ago. Now, anyone who has cats, probably is well aware of this next great challenge - especially for those that have never ever worn a collar before. Here is how it all panned out:
- Tristan the White was first - his reaction typical: "Oh my God, what have you done to me - I can't stand - I can't walk - ack! I am crippled!" Then, he disappeared for about 15 minutes, returned without the collar, and with somewhat of a smug look on his face - "ah, that's better" - he seemed to convey. You see, these are the safe "breakaway" collars - and that's exactly what he did - quite skillfully and in record time! Maybe we should nickname him Houdini!?
- Manitou, the Caramel - well, he's had a collar before, and whilst he really would prefer to remain "au naturel" - it is still on.
- Chaiyka, the Tabby&white, sports a red one, and seems to be rather accustomed to it - a bit tricky at first, but now no problem
- Mr. Poole, the black - like Chaiyka, it was a rough start, but now he's ok with it
As for the 2 "illegals" - Bandito and Longfellow - they are my sister's cats that I look after every now and then ;) Both have collars, no tags though. I will have to append something to make them look "legal".
I must say that all this has rattled us. We feel we are being watched, and we don't know by whom. Which of those smiling neighbors is it? Or is it the non-smiling ones? We try not to let the gang out all in one herd, but sometimes that is hard. And it doesn't help when at any given time, there are 4 cats on the porch - and they aren't even mine! Even the next door neighbor's cat - just a shared driveway away - comes when the "dinner gong" (aka can opener) is sounded. Good grief!
Anyway - dreadful heat wave at the moment, and the cats are much in favor of us installing an air-conditioner - finally! I for one seem to be less and less tolerant of this heat as the years go by.
Even lounging about outside seems to give little relief to the furred ones.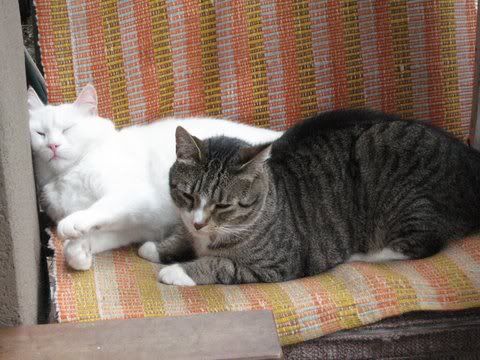 Tristan and Chaiyka nap together....pre-collars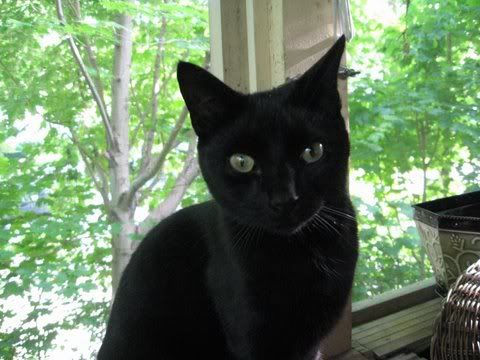 Some lovely shots of our regular visitor, Ping-Pong - so elegant, slightly oriental-looking and sleek.......and no collar!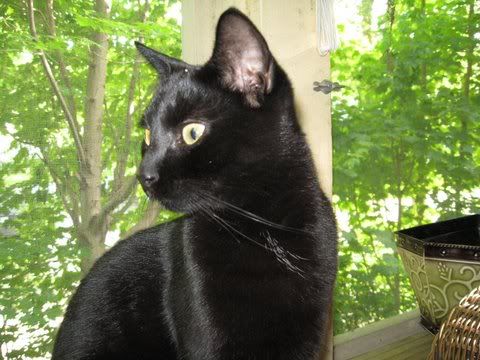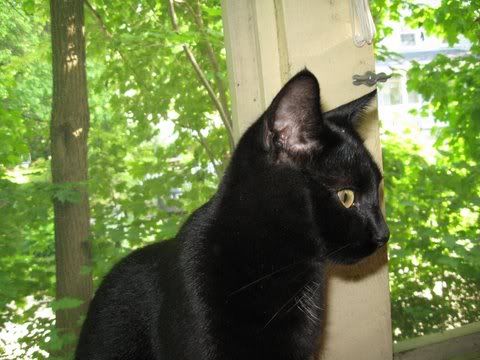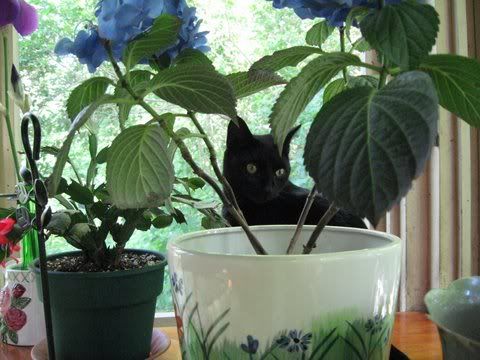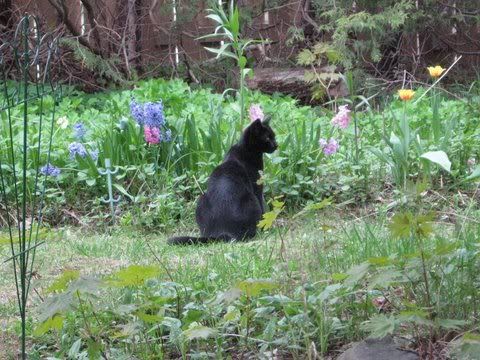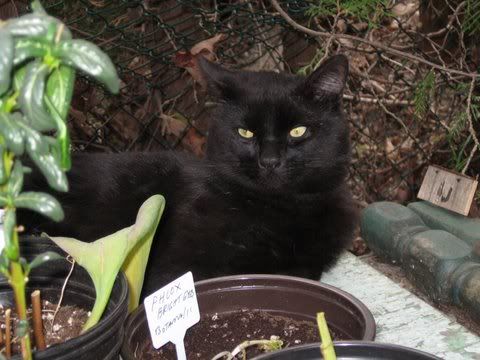 The Reverend relaxes and strikes a pose....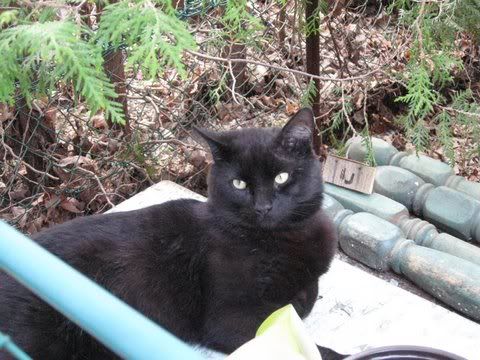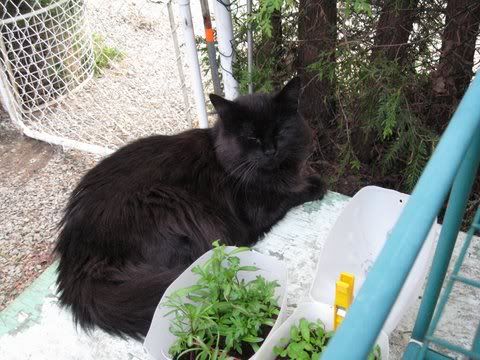 Mr. Poole, at the other end of the table, makes sure The Rev stays in line... "I'm watching you".... ahem...I don't think The Rev looks too frightened! By the way - someone put his white flea collar back on again...but as of last week, it is off once more. Hmm....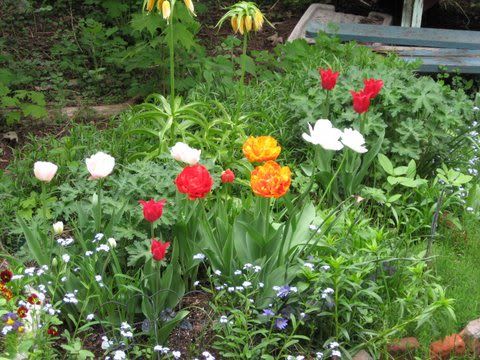 Spring flowers - now just a memory....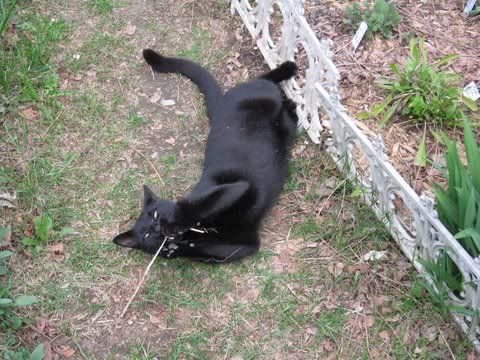 Ping-Pong plays.....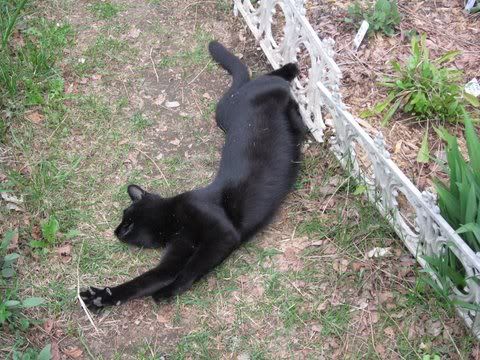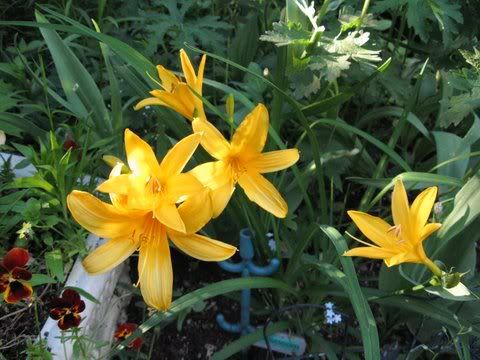 My first daylily (Middendorfii) - a very early variety and the flowers stay open for 2 days not the usual one...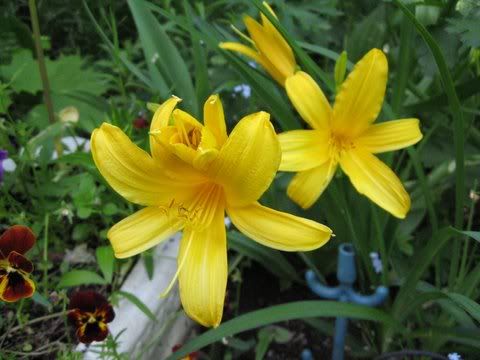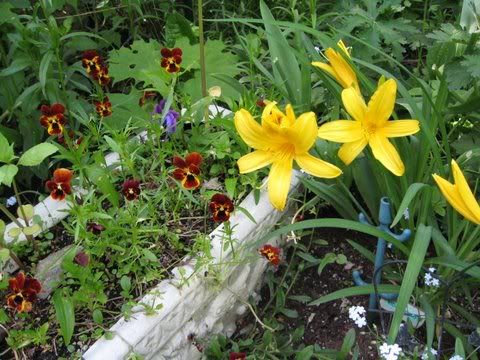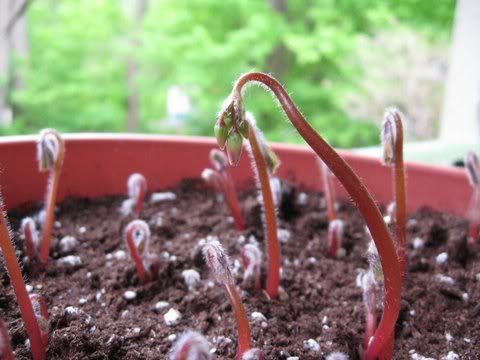 I love, LOVE, to see things sprout and grow!